Posted on 29 June 2012
Section:
Daily Fashion News
Author: Sabrina Gaffney
|
More from this author >>>
Prints of many descriptions are huge for this season and the fantastic thing about this is that it allows you to really express yourself but still be bang on trend at all times. It also means what is currently in your wardrobes can be recycled so the trend is purse friendly and stress free. Whether you chose bright saturated colour wow, muted understated grey or pastel vanilla milkshake, just make sure you have fun and be yourself. If you really dislike wearing prints but you are curious about the fashion hype then don't forget those fantastic accessories including show stopping shoes and beautifully brilliant bags which can help you venture into this unknown but stimulating territory. Try something new!
Dianna Agron's blue and white zigzag a-line shirt looks very sweet with matching blue ballet flats, and her luxe caramel biker provides the ideal colour and personality contrast. The lady who understands clothes possibly more than anyone else, Olivia Palermo's watercolour print dress is flawlessly balanced by her sherbet yellow knit, and accessorized with her teal blue cross-body bag and gorgeous fluffy white pooch. Miranda Kerr does her thing translating airport classic chic meets relaxed style in the language of fashion wearing slouchy blue and white printed trousers, a classic white vest, and smart black blazer, with her Yves Saint Laurent Cabas Chyc bag.
Some other print experts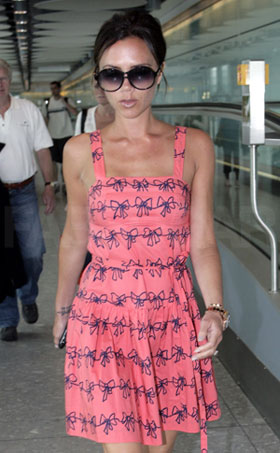 Author: Sabrina Gaffney
|
More from this author >>>