Posted on 07 June 2012
Section:
Daily Fashion News
Author: Sabrina Gaffney
|
More from this author >>>
OK Irish weather is extremely unpredictable but I was thinking maybe with this latest neon trend we could try and dress first and then through the power that is fashion persuade the sun to come out and stay. Well it's worth a shot!
Now with neon's there are some do's and don'ts
Don't: Channel your inner Lollipop Lady
Dressing head to toe in any trend can instantly kill the look and there are better ways to stop traffic.
Do: Mix neon's with camel or muted tones
Carry off the neon look by teaming it with camel or muted tones. Try a bright aqua skirt with a camel blouse for a fashionable and chic contrast in an office appropriate look. If you opt for a block color dress make sure you accessories are a different shade.
Don't: Go overboard with neon make-up
I know it's recession but please don't use a highlighter pen on your face. There are some fantastic brands out there that keep it cheap and cheerful along with on trend and fun. Just don't go overboard because you will end up looking like a clown.
Do: Experiment with minimal neon make-up
The words neon and make-up can be quite intimidating, but if you chose just one area of your face to introduce with a little neon color, then, it's quite difficult to go wrong. Incorporate some flicked out neon eyeliner into your usual look for an unexpectedly subtle yet appealing change.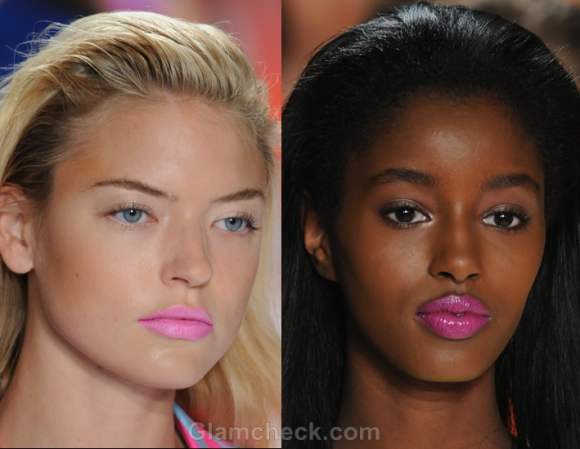 Don't: Give Pat Butcher a run for her money
Statement jewelry can look very effective and give a mundane outfit that much needed lift. However, if it does start to resemble a look you once saw on Pat Butcher then start to pull back.
Do: Opt for minimal neon accessories
Minimal neon accessories can be fantastic for those of you who are still a little uncertain about this whole neon trend. Try a straightforward neon ring or bracelet worn with the simplest of attires. This is subtle but still on trend.
Author: Sabrina Gaffney
|
More from this author >>>